The Canadian Rockies is a region unlike any other. And Windborne: Call of the Canadian Rockies captures it like never before.
The spirit of the Canadian Rockies comes alive in Windborne, with FlyOver's signature motion seats, simulated winds and immersive scents creating an unforgettable adventure over the mountains. Every shot of alpine lakes, towering glaciers and snowcapped peaks helps tell the tale of the land, with even more to discover beyond the surface.
With help from director Dave Mossop of Sherpas Cinema, we've collected some fascinating stories from the making of Windborne, along with some facts that have made the Canadian Rockies legendary.
A soaring score: The music for Windborne was composed by Calgary-based music and sound house 6 Degrees. Listen for 1980s-inspired synthesizers and Indigenous drumming throughout the experience!
Facing the challenge of the Rockies: Windborne features several world-class athletes, including freeskier Christina Lustenberger, ice climber Will Gadd and rock climber Sonnie Trotter.
Coast to coast to coast: Snowmelt from Mount Snow Dome in the Columbia Icefield flows into the Atlantic, Pacific and Arctic oceans, making it the only undisputed hydrological apex on Earth.
Photogenic phenomenon: Maligne Lake's Spirit Island is considered one of Canada's most photographed locations, notably lending its timeless beauty to Kodak's New York Colorama showcase in 1960, as well as Apple's iPad Air 2 launch in 2014.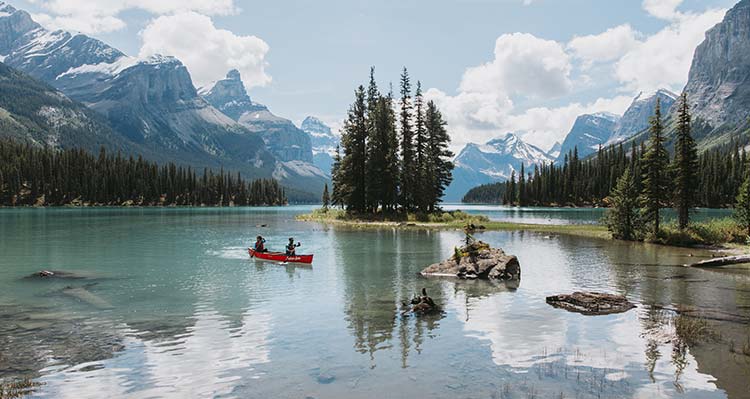 Both sides of the border: Despite its Canadian location and its status as a National Historic Site of Canada, the Prince of Wales Hotel was actually built by the United States' Great Northern Railway in 1926/27.
Getting the shot: Ice climber Will Gadd climbed an overhang on the famous Curtain Call ice route 27 times to get the shot exactly right for Windborne.
The Rockies run deep: Windborne director Dave Mossop was raised in Alberta and has a special connection to the mountains. His father, Grant Mossop, was an expert in Canadian Rockies geology and is featured in the Windborne pre-show through archival 1980s educational footage.
Experience Windborne: Call of the Canadian Rockies, showing December 1 to May 30 at FlyOver Iceland.