As the capital city of Iceland and its cultural, political and economic hub, you may be surprised how compact central Reykjavík actually is. Getting around as a visitor is actually quite easy, and you have options. Here's what you need to know.
Reykjavík on Foot
You can walk from the Hallgrímskirkja to Grandi harbour area in about 30 scenic minutes! Reykjavík is a great city to stroll around.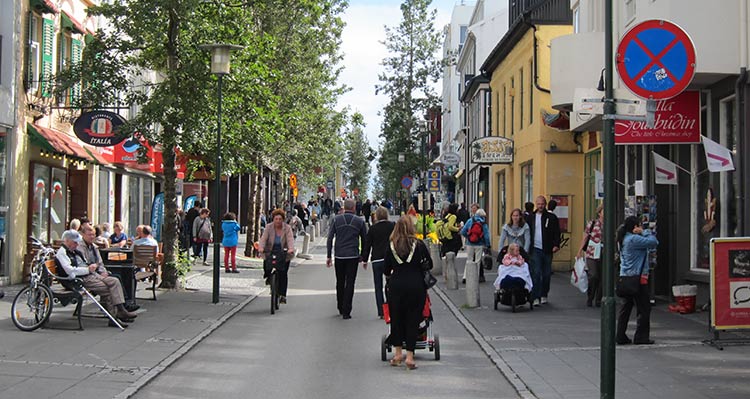 Reykjavík by Car
If you are a visitor with a rental car, we recommend parking it somewhere central (like your hotel) and exploring by public transit or on foot once you're in the heart of the city. Parking can be tough, there is quite a bit of construction and understanding the nuances of Icelandic driving culture mean it's a lot nicer to drive on the wide open roads of the countryside (versus the narrow city streets).
Taxis in Reykjavík
There are 24-hour taxi companies operating in the city that will take you just about anywhere.
Tour buses in Reykjavík
From a convenient shuttle in from the Keflavík Airport to accessing hot spots like the National Museum, Hallgrímskirkja and the Grandi neighbourhood at the old harbour, consider signing up for a tour that gives you freedom and flexibility to hop-on and hop-off as you like. Tour buses can also take you to hot springs and national parks as part of a day trip.
Local bus in Reykjavík
Experience the city like a local! Riding Reykjavík's public transit is also budget-friendly. Local buses are called Strætó in and around Reykjavík. If you're planning on riding them frequently, consider picking up at Reykjavík City Card for unlimited travel within a 24-, 48- or 72-hour time frame. Plus, it includes discounts on restaurants and some local attractions.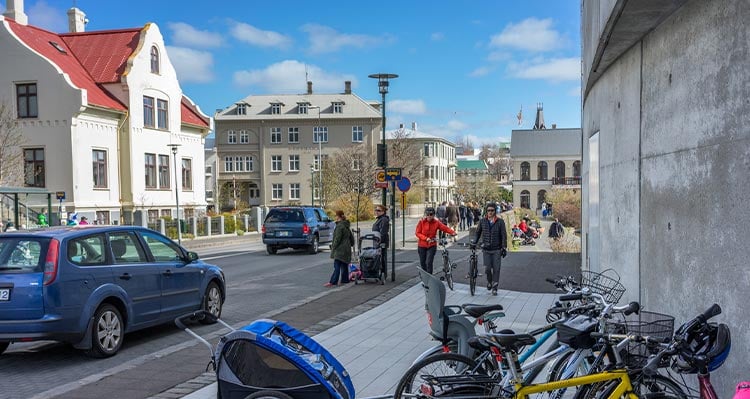 Reykjavík by bike
Rent a bike or a scooter while you're here to get some exercise, cruise the coastlines and have some fun. There are extensive bike lanes through the downtown core and wide car-free paths all along the coastline. It's a very bike-friendly city. A number of outfitters in the city rent bikes including Iceland Bike Tours.
How to get to Grandi
If you've got the hip Grandi neighbourhood on your itinerary—and here's why you should—you have plenty of simple options. It's a lovely 10-minute stroll from downtown along the harbour, a speedy 5-minute bike ride along the bike paths or you can take the local bus #14 to Grandi.
Of course, it's essential that you adapt your mode of transportation to the weather conditions (which can be challenging here). An ideal day in Reykjavík will let you walk or bike as much as possible, from the downtown core out to Grandi and even along the coastal paths. But when the weather is questionable, hop on the shuttles and buses listed above to make your moves easy and dry, and to make sure no weather holds you back from getting the most out of the amazing city.