Weather is always a topic of conversation in Iceland. When it's sunny, it's remarkable. When it's not sunny, it's also worth talking about. Some days, you can have all kinds of weather on the same day!
Iceland doesn't have a specific "rainy season", but from October through February days can definitely be wet. Don't worry! The lovely coastal city of Reykjavík has plenty to keep you busy on a rainy day. Here are a few of our top suggestions:
Reykjavík on a Rainy Day
Harpa Concert Hall. The architectural marvel on the harbour is certainly a show-stopper on the outside, rain or shine. But on a rainy day, you've got heaps of fun ways to stay dry and be inspired. Most days, there are are live concerts or theatre events. There are guided tours that take you behind the curtains. The gift shops are stocked with interesting curiosities as well. And there are plenty of spots to sit quietly and read a great book.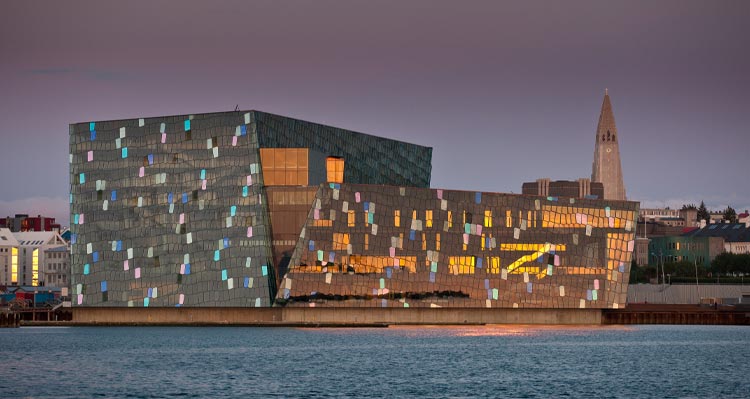 Local pools. Rain or shine, Reykjavík residents flock to their local pools to relax, unwind and socialize. No matter if it's the heart of sunny summer or the dark depths of winter, this is where Icelanders gather. There are a few right in the city centre of Reykjavik that are easy to get to. It's a very authentic experience.
FlyOver Iceland. Reykjavík's newest attraction is a flying ride that ushers you inside a giant dome where you're fully immersed in a breathtaking adventure as you take in Iceland's most stunning landscapes. And it's perfect, rain or shine. Be sure to allow some time to enjoy a coffee and treat, Icelandic-style, at Kaffi Grandi after your FlyOver experience. You'll have plenty to talk about!
Whales of Iceland. If you're into whales, this is your chance to get up close and personal with 23 life-size models of the giants of the sea. It's like you're riding a submarine and exploring the depths of the North Atlantic. It's right around the corner from FlyOver Iceland—a few umbrella-covered steps away.
Coffee and bookstores. Reykjavík is home to loads of bookstores. The best ones also have a cafe attached to them, so you can literally spend many literary hours sipping a warm beverage and reading something outstanding—perhaps the best rainy day activity of them all! Some of the must-visit bookstores in town include Mál og Menning on Laugevegi Street, with the upstairs Café Súfistinn, the sweet little Ida Zimsen across from the Museum of Photography (another great rainy day stop!), and Penninn Eymundsson, Iceland's oldest bookstore which has books in many different languages.
From thrills to coziness, Reykjavík is a wonderful place to be on a rainy day. Get out and make the most of it!