Iceland is a scenic stunner that offers a host of activities in every season. From seemingly endless summer days to the mesmerizing natural light show that illuminates the winter sky, you'll love the breathtaking sights and world-class attractions awaiting your discovery in Iceland.
Wondering when is the best time to come to Iceland? Here are some pros and cons to each season of the year.
Iceland in Summer
With daylight lasting almost 24 hours in the peak of summer, there's no shortage of time to explore what many refer to as "the land of fire and ice". For outdoor adventurers, Iceland is a rugged paradise bursting with opportunities. The dichotomy of its jaw-dropping backdrops ranges from verdant mountainsides, sparkling glaciers and impossibly blue lakes, to smoldering volcanoes, barren lava fields and black sand beaches. Thanks to its diverse and rugged terrain, the hiking and cycling are epic here—whether you're a novice seeking leisurely paved trails, or you crave the adrenaline rush that comes with carving your own path.
Marine life—like orca, humpback and blue whales—is also a big seasonal draw, and the bird watching is matchless in summertime. Weather varies throughout the summer months, but warm summer days can reach 20–25 °C (68–77 °F). Suitcase staples should always include weatherproof outwear, sun protection and an eye mask—to block out the midnight sun.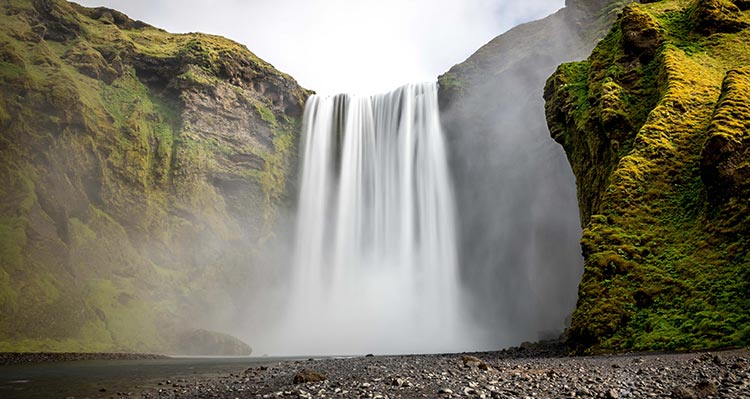 Iceland in Fall
While the duration of autumn in Iceland is varied and weather dependent, the fall foliage and soft golden light promises to impress. You can expect daylight to dip to between nine and thirteen hours, with temperatures ranging from freezing to a high of 12°C (55°F). As the season boasts fewer crowds and lower accommodation costs than Iceland's busy summer months, visiting in fall can be considerably more economical. The other bonus? You'll still have access to some of the country's top summer attractions like wildlife watching, glacier lagoon tours and hiking. And if you're lucky, you'll also be able to preview one of winter's most sought after sights.
Given that the northern lights typically makes its first appearance during the month of October, autumn is a dazzling season to experience the very best of Iceland. To prepare for fall's unpredictable weather, bring layers of clothing and warm, weatherproof outwear and footwear.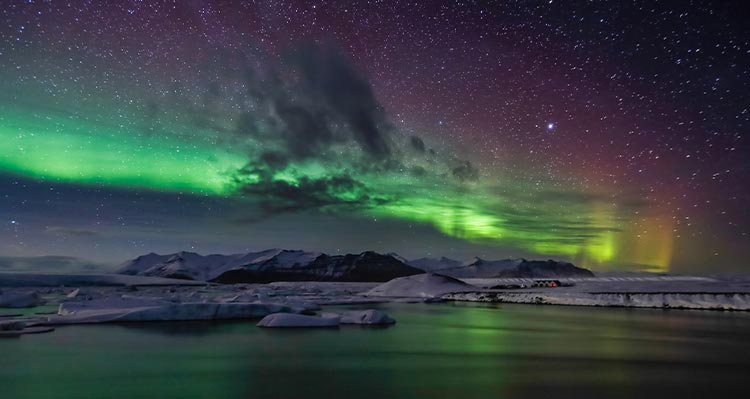 Iceland in Winter
Shimmering snow-draped landscapes and the awe-inspiring Northern Lights are hallmarks of Iceland's impressive winter season. And while Mother Nature's vibrant illuminations are considered the star attraction, there are many more adventures to uncover. Adrenalin-spiking outdoor activities include guided caving experiences, glacier tours, ice climbing, downhill skiing and snowmobiling expeditions. Post-play, warm-up winter with a rejuvenating soak in one of the country's famed geothermal hot springs. Or, spend some time indoors dining on Icelandic cuisine, touring the local museums and checking out worldclass attractions like FlyOver Iceland, which operates year-round.
If you plan on visiting during December's Christmas season, expect to experience some of the world's best Yuletide festivities, including traditional Christmas markets, whimsical baubles and lights, and impressive fireworks displays. Although Iceland's coastal winter weather typically ranges from about -5°C to 3°C (23° to 37.4°F), temperatures can fluctuate, so be sure to pack warm, waterproof clothing and outerwear.
Iceland In Spring
Similar to fall, spring in Iceland offers visitors a unique sampling of both winter and summer activities. In April, you may still be gifted with the northern lights, yet longer days promise warmer weather—highs can reach 7°C (45 °F)—and the return of Iceland's beloved puffins and other migratory birds. Whale safaris also typically begin in April or May.
After the spring snowmelt, wildflowers are in bloom. Previously frozen waterfalls tumble and roar down mountainsides—transforming Iceland into a colourful wonderland and photographer's dream. Smaller crowds (before summer's busy tourism months) also afford shoulder-season pricing. Weather can vary, so prepare by packing waterproof outwear and layers.
Remember that FlyOver Iceland is open throughout the year; it's a great indoor activity on a chilly winter day, when a tour is canceled and the perfect place to kick-off your summer ramblings. So choose the season that suits you best, and immerse yourself in the magic of Iceland.