It's true, the days are short during Iceland's coldest months. However, the country's capital city is abuzz with activity every season, and winter is no exception. From outdoor recreation and dazzling light shows to cozy cafés and a thrilling cross-country adventure, here are five ways to fill your days in Reykjavík this winter:
Tour Reykjavík's coffee shops
Iceland's coffee culture is strong. Wander through Reykjavík's vibrant downtown core, and you'll stumble across a coffeehouse on practically every block. While you won't find any big international chains there are plenty of independent cafés boasting bold barista creations. Kaffitár and Te & Kaffi are the two largest local brands, both of which have helped shape Reykjavík's specialty coffee movement. Café Babalú is another favourite locals' haunt, best known for its eclectic décor and tasty house-made cakes. Or visit Kaffi Grandi in the Grandi Harbour District for a warm drink and sweet treat.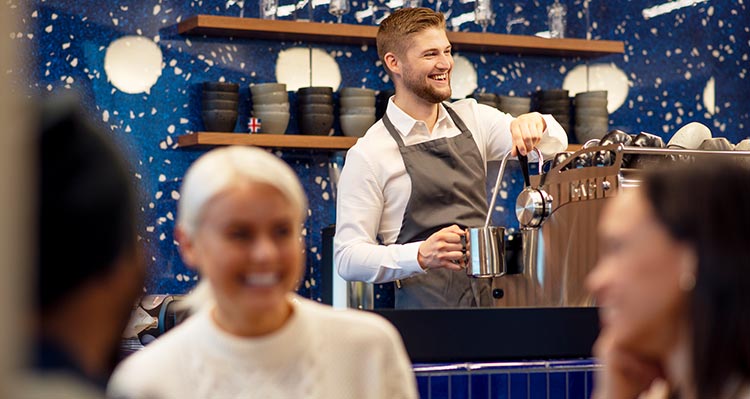 Skate on an outdoor rink
Make the most of Iceland's crisp-weather winter by skating outside. December is an incredibly magical month for outdoor rinks. Most notable is Ingolfstorg Square, as the bustling gathering spot hosts a Christmas Market, complete with fairy lights, live music, festive food and warm-you-up beverages. Bring your own skates or rent them rink side. Perhaps one of the most picturesque places to skate is Tjörnin, by City Hall in downtown Reykjavík. The lake, which freezes over in winter, is bordered by beautiful turn-of-the-century homes and is within walking distance of restaurants, galleries and museums.
FlyOver Iceland
FlyOver Iceland is an adrenalin-inducing, all-senses adventure in the heart of downtown Reykjavík. Full motion seating, a wraparound screen, and state-of-the-art technology create the illusion of flight and allow you to safely and effortlessly experience the country's most majestic and faraway sights. Your exhilarating journey begins with stories of ancient lore—think Vikings, volcanoes, trolls and more. Then, soar across Iceland's most spectacular natural attractions. Discover dramatic glaciers, swoop past towering peaks and deep blue fjords, and feel the refreshing spray of a tumbling waterfall. So, buckle up and prepare for take-off, as this flight-seeing experience is next level.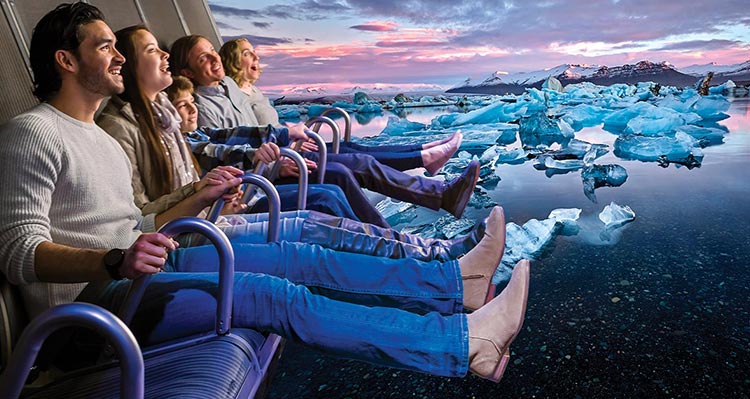 Swim at a local pool
Outdoor thermal baths are an integral part of Icelandic culture. You'll find an astounding 17 pools in greater Reykjavík, many of which are outdoor and open year-round. Some facilities feature a lap pool and hot tub, while others offer waterslides, multiple pools, hot tubs, and Finnish saunas. All of Iceland's pools are filled with mineral-rich geothermal water, promoting health benefits, including easing sore muscles and boosting collagen production. Soaking in a warm pool is also incredibly relaxing and a soothing way to end a day of touring. Be in the know before you go: all bathers must shower, swimwear-free, with soap, before entering public pools.
Watch the northern lights
Daylight is fleeting during winter in Iceland. December is the darkest month, with the shortest days offering just five hours of light between sunrise and sunset. However, pair cool, crisp temperatures with a night sky and magical things can happen. The northern lights—aurora borealis—dance above Reykjavík's city skyline throughout the winter months. Take in nature's colourful luminary show from a thermal pool or ice skating pond. Better still, drive to Grótta lighthouse, about five minutes outside the city centre, for a mesmerizing display unobstructed by city lights.
Or come see the aurora borealis and all of Iceland's stunning year-round natural beauty on the thrilling FlyOver Iceland flight-ride.