The Reykjavík Layover—what a great idea!
It's becoming more and more common for people to spend a layover in Reykjavík en route between North America and Europe. Some have a few hours, some have up to a few days. Regardless, it's a chance to stretch your legs, see something new and take advantage of some outstanding deals.
Whether you have a few hours or a full day, it's definitely worth your while.
These suggestions all begin at Keflavík International Airport.
If you have half a day:
Got six hours to kill between your flights? What's better in-between than a good leg stretch and some delicious food?
Hop on a shuttle straight into the heart of Reykjavík (there are a handful that depart from the arrivals area on a regular basis) and go for a stroll. It's about 45 minutes from the airport into the city. You'll have time to walk from the famous Hallgrímskirkja church all the way down to the harbour and from there to Grandi. Grab a famous Iceland pulsa (a version of a hot dog—the best ones are made from Icelandic lamb) and enjoy lunch by the sea before heading back to Keflavík.
If you have one full day:
Blue Lagoon is one of the most iconic thermal pools in the world, and it's quite close to the Keflavík airport. They can even arrange a shuttle. You'll need to book ahead!
We recommend a half-day at Blue Lagoon, followed by a very relaxed exploration of pretty Reykjavík. Follow the instructions above, and be sure to take some time in the Grandi Harbour District for some shopping, a meal at the Grandi Mathöll and a visit to FlyOver Iceland—where you can take a stunning virtual flight to Iceland's most remote corners. It's the perfect way to see all of Iceland when you've got such limited time.
If you have one full day and night:
If you have time for one tour of Iceland, we recommend the Golden Circle. It takes in stunning tectonic plates, geysers, waterfalls, hot springs and a UNESCO World Heritage Site. Sign up for a guided tour to maximize your time. Once you're back in the city, enjoy a seaside dinner of fish or langoustine with some hearty bread and a micro-brew.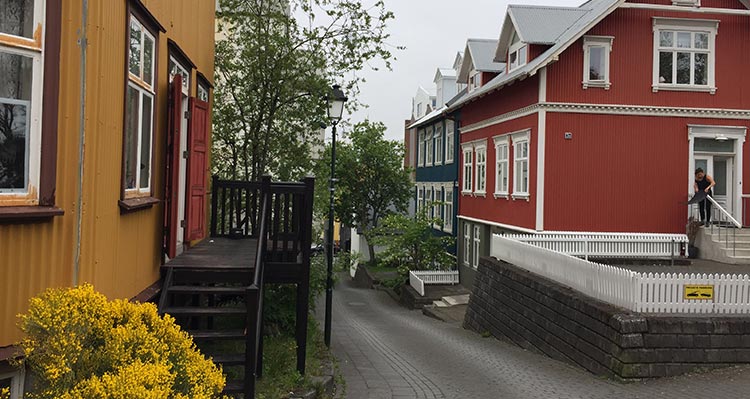 In the evening, hit up one of the local hot pools like Laugardalslaug, Sundhöll Reykjavíkur and Vesturbæjarlaug which are all near the city centre and your best chance to strike up friendships with Reykjavík locals who see soaking in these pools as an essential part of their daily lives.
Need a late-night snack? Grab a pulsa (hot dog) from one of the city's famous hot dog stands—the one run by Bæjarins beztu on Tryggvagata street is open into the wee hours and is regularly named best hot dog stand in Europe!
One great night sleep, a coffee early in the morning and you're back at the airport feeling inspired, relaxed and recharged—and ready to continue your voyage.