It was one of those classic Icelandic spring days. The morning started with rain and fierce winds. As the team prepared the site of the FlyOver Iceland groundbreaking ceremony on April 18 in Reykjavík's trendy Grandi harbour neighbourhood, they put up a tent for shelter and had warm soup ready.
Then, suddenly, the skies cleared and the wind died. Shovels were dug, ground was broken, speeches were made and photos captured. About 90 minutes later, the rain was back but the mission was accomplished.
"I always say you can see all the four seasons in a day here in Iceland," says FlyOver Iceland's Sigurgeir Guðlaugsson.
The official groundbreaking of FlyOver Iceland, an experience by Pursuit, last week was years in the making. And it's garnering a lot of excitement.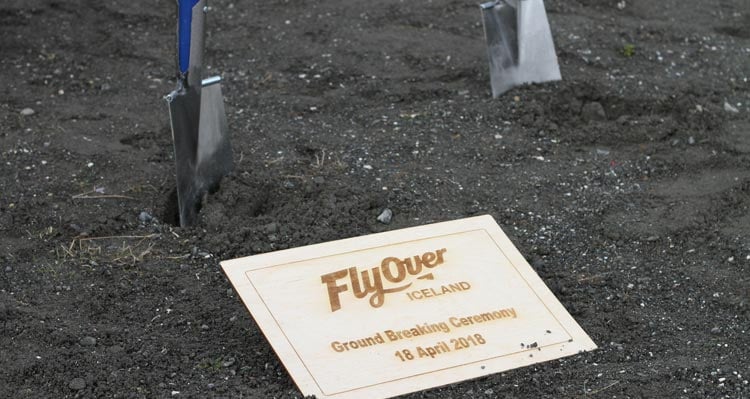 Iceland's booming tourism
Tourism in Iceland is clearly booming. The number of annual visitors has more than tripled since 2010. And while there's been significant development in hotels and infrastructure, there remained a clear hole in the industry. "Where we have been lacking, to tell you the truth, is there's not been enough top-quality attractions to keep people entertained," Guðlaugsson says. "Too many tourists ended up spending their days just wandering around Reykjavik."
So Guðlaugsson and two other entrepreneurs, Robyn Mitchell and Kevin Finnegan, began to put together an idea for something visually-stunning, a rich and exciting way to share the landscapes and culture of Iceland in a place that was both alluring and practical. A FlyOver theatre, modeled after Pursuit's highly-successful FlyOver Canada attraction, was the perfect fit. It's a virtual ride that takes guests on a breathtaking aerial journey over some of Iceland's most spectacular landscapes using advanced ride flight technology. The team knew right away that housing the flight-ride in an important and attention-getting building would be key.
Cool Grandi: finding the right place
Guðlaugsson says the entrepreneurs spent many months looking at what is now the site of FlyOver Iceland and imagining what could be.
"I used to have my office right next to the site. My old window overlooked it. For years, I was looking at this site from my office, wondering when something interesting would come here," he remembers.
The Grandi neighbourhood of Reykjavík is in many ways similar to New York City's Meatpacking District, except it's the historic harbour area and its roots are in industrial fish-processing, not meatpacking. But Grandi has been emerging recently as a hotbed for trendy artisan workshops, boutiques, top restaurants, the city's most popular yoga studio and even a high-end butcher. Whale watching and puffin viewing trips depart from this area. The New York Times called it a place with "newfound creative vitality."
"To see how it has changed in the last four years is spectacular," Guðlaugsson says.
They sensed that Grandi would be the perfect location for their attraction. The partnership with Pursuit, which brings world-class expertise in hospitality and attractions, was a major impetus and essential to the project's evolution.
FlyOver Iceland: What now?
Construction begins in earnest right away and filming is slated to begin in June. The teams are very enthusiastic, to say the least.
As much as there's excitement about the flight-ride that will open in 2019, people in Reykjavík are definitely talking about the building itself, which will be a significant landmark in the city. It will tower above the others in the area, reaching 50 percent taller than its neighbours. As a design, it's quite stunning and includes a circular sphere-like section and a more utilitarian square section. Guðlaugsson says it's a very interesting interplay between two architectural styles.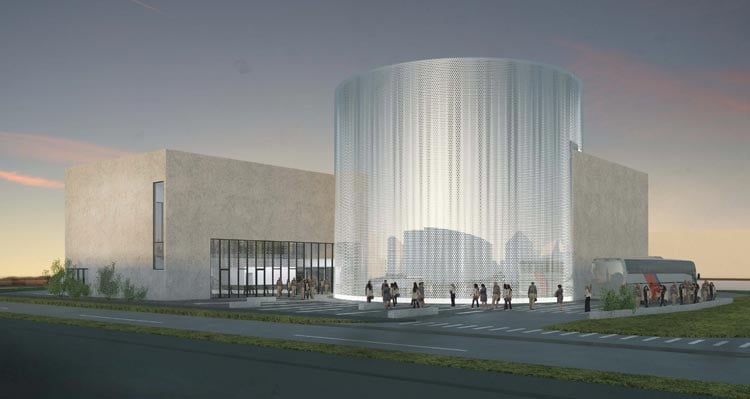 And that may help explain why there was so much press coverage of Wednesday's event. One of the country's largest newspapers did a feature online and one of the two top primetime news shows aired an interview with Guðlaugsson and Mitchell.
"I was very positively surprised," he says. "It came down to good organization, of course. But it also shows, I think, how important this project is. It's something totally new. And people are excited."
Watch FlyOver Iceland's story unfold by following us on Facebook, Instagram and Twitter or signing up for our project newsletter below.